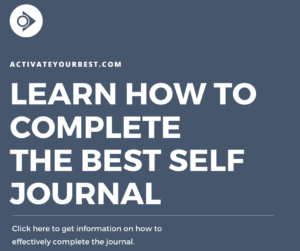 Thank you for purchasing Best Self Journal! or the Activate Journal! The steps below can be used to complete both journals.
---
If you have not yet purchased the journal, click here to purchase.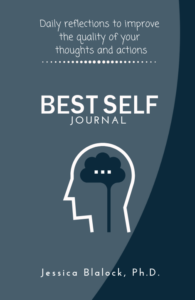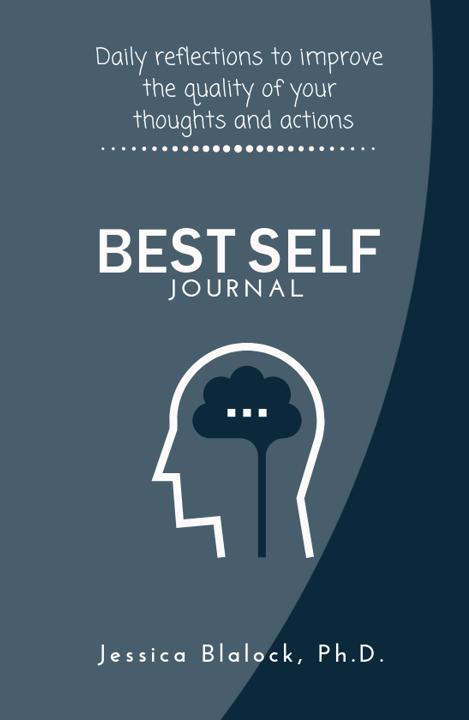 ---
How well do you organize your life? How good are you at staying on task? Your Journal will provide the structure you need to get through the process of planning goals and acting with ease!
This 3-month journal was created based on principles of neuroscience and positive psychology to help make it simple for you to achieve your goals. In your Journal, you will record your journey each day by keeping track of your progress, opportunities and areas of development for 3 months.
As a result, you will create healthy habits, learn a new skill or simply remain on task.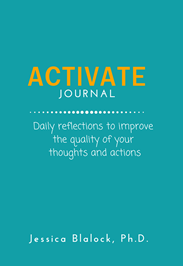 Journaling is a great way to help you track your effectiveness and reward yourself for short-term milestones and long-term successes. Start each day reflecting on what you are grateful for and determine the specific actions you will take to reach your goals to help you to accomplish your true desires!
Before you Begin
If you feel you need to take time for self-reflection, before you start writing in your journal, complete the workbook Discover Yourself. This workbook will help you help you clarify who you are and what you need to do to continue to grow and develop in your career and personal life.
About the Journals
There are 8 parts to the Journals. Let's now review tips on how to successfully complete the journal on a regular basis, with ease.
What will you need? To effectively use this journal, you will need a bookmark to keep track of the current day and a pencil with an eraser (as things change, your goals and milestone dates may change; it is easy to make changes with a pencil).
When you start writing in your journal, hashtag #bestselfjournal to share your progress. Now, Lets get stated!
---
STEP 1: BEST SELF/ACTIVATE PROFILE
Before you begin writing in your journal, it's important to reflect on what's important to you?
Purpose and Values. What are your key values? What is your personal mission statement–what excites you the most about life? By clarifying this, you will gain clarity about your life's purpose, and you will know what is truly important to you.
Morning, Mid-day and Evening Activities. Determine specific activities/rituals you will complete daily. These activities will help you relax, center yourself and keep you on the right track. Make sure you estimate the time you will start and stop your activities (some examples of morning and evening activities are meditation, juicing, exercise, reading, and deep breathing exercises).
For mid-day activities, you can set your alarm at a certain time, in the middle of the day, and take a minute or two to get relaxed and acknowledge the present moment. This is also a great time to monitor your thoughts; are you focused on your true desires or something else? Take time to center yourself and enjoy the moment.
By engaging in these activities, daily, you will form habits that will help you create positive results.
For more information on determining values and your life's purpose, view video's below.
https://www.youtube.com/watch?v=OPAStjmsuP0&t=101s
---
STEP 2: ACTION PLAN
Creating SMART (specific, measurable, attainable, relevant and timely) goals and following through, is the cornerstone of your success. According to Brian Tracy,
Planning out your specific goals and following through, is key to your success and reaching your desired goals. When people don't plan or take actions, goals do not get accomplished and they often go by the waist side.
Successful people have and follow through on specific goals. Setting goals gives you long-term vision and short-term motivation. Setting goals enables you to organize your time and your resources so you can achieve what you truly desire in life.
In step 2, it is time to create SMART goals. Be clear about what you want to accomplish, a timeline for completing your goal and specific milestones that show small successes. After successfully completing a goal or milestone, get into the habit of rewarding yourself with something special to acknowledge your hard work.
After you have completed writing out your goals, go to your calendar (in your book/computer/phone) and record reminders of your milestones and goal due dates. Also, review the dates regularly, to make sure you are on target with completing your goals.
For more information on completing this section, view video below.
*If you need help determining what to focus on, complete the strengths profile at the end of the book.
---
STEP 3: WEEKLY ACTIONS
After you have developed your goals, you are ready to begin planning specific steps you will take each week to accomplish your goals.
For 13 weeks, there is a weekly actions sheet for you to complete (this is usually completed at the beginning of your week; for me; that day is usually on a Sunday). Write down all the actions you will take during the week to accomplish your goals; then record how you will reward yourself for successfully completing your tasks. Make sure you reward yourself as you continue to focus and move closer to what you truly want for yourself.
After you complete your weekly actions, you are ready to start the week! For the next 3 months, in the Best Self Journal, you can record your goals for the day.
STEP 4: MORNING FOCUS
Morning Focus helps you plan out your day and incorporate principles of gratitude.
Gratitude. Being grateful is appreciating and focusing on the good and blessings of life. Life is filled with ups and downs, highs and lows. Be grateful for and reflect on what you have learned from previous situations and focus on how the experiences have helped you to grow. Remember, focusing your mind on lack, leads to lack and limitations; focusing your mind on opportunities and growth, leads to opportunities and growth.
Recent research in positive psychology has shown that gratitude is associated with happiness. Expressing feelings of gratitude has shown to help people have higher levels of positive emotions, decreases blood pressure and builds healthy relationships.
Essentially, grateful people are happy people!
Write down what you are grateful for each day. What are great things that have occurred within your life within the past 24 hours? What things most excited you or what are you most proud of?
Morning Activities. In the mornings, engage in your morning activities (the form you completed in step one). Make sure, you create a habit of completing your morning activities at a specific time every day.
Daily Actions. Daily actions are the specific actions you will take to achieve your goals. Write out all actions you will take to achieve your goals each day. Many people complete the daily actions at night (as they complete the evening reflections and review them in the morning) and some people complete the actions in the morning. It is up to you to decide when this is completed. Nevertheless, make sure it is a time you have clarity about what you need to accomplish.
STEP 5: EVENING REFLECTIONS
After each day, take time to reflect on your day; what were your successes? What were your lapses? What actions can you take to make tomorrow better? You can also write addition thoughts or comments that you may have about each day.
Take at least 5 minutes to reflect on the best part of your day; what was the most exciting thing of your day that brought you joy. In doing this, you attract more of this into your life.
And of course, complete your evening activities (as you recorded on your best self-profile).
STEP 6: WEEKLY REVIEW
At the end of your week (I usually do this on Sundays; this day may vary depending on your schedule) review your major accomplishments and areas of development; also reflect on how you can focus more and become more effective for the following week.
Weekly reviews will be completed every week for 3 months.
STEP 7: ADDITIONAL THOUGHTS
You may have additional thoughts or topic areas you want to record on a regular basis; in this section, there are over 20 blank pages for you to document additional thoughts, actions or feelings about your journaling process.
STEP 8: MAP IT OUT
At the end of the month, you can record a summary of your progress and areas of growth. This will help you determine what you need to focus on for the following month.
Thank you for purchasing our Journal! Completed regularly, this journal will lead you to your true desires; one day at a time!