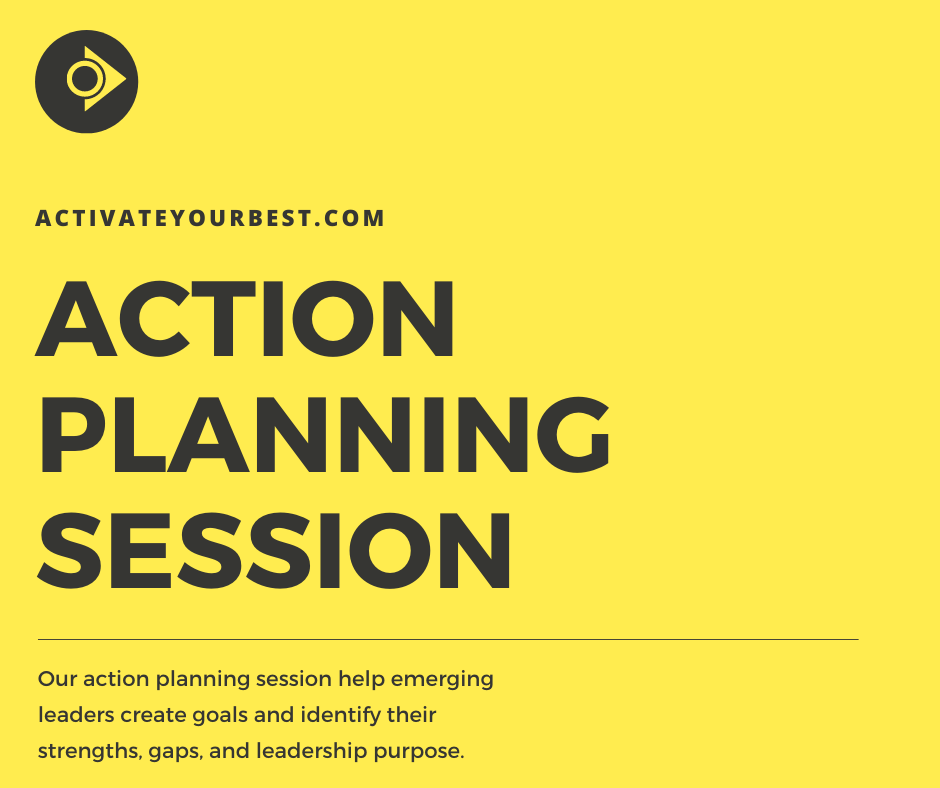 Do you have staff members that are ready to move up in their career but lack specific experience and skills? Do you need people on your team to increase their leadership skills quickly? Are your leaders having challenges managing change?
Our action planning session helps emerging leaders, managers and c-suite leaders create goals and identify their strengths, gaps and leadership purpose.
As a result of the action planning sessions, you will have a completed dashboard that includes your personal profile, leadership purpose statement, strengths, gaps, key goals.
What's Included in the Planning Session
Here is a summary of what is included in the action planning sessions.
Before the session
Once your session is scheduled, you will receive the following assessments to take before we meet.

Gallop strengths survey

Emotional Intelligence Assessment

360 assessment (you will let at least 5 people you trust complete this assessment)

Personal profile survey
Create Your Purpose Statement in 10 Days
During the session
You will work with Dr. Jessica for 4.5 hours to help you set leadership goals and take action. In this session, you will review:


create a final or draft purpose statement
After the session
As a result of our meeting/s, you will receive a dashboard that includes your personal profile, long-term goals, strengths and areas of growth and your goals for the next 90 days.

You will also receive a free Best Self Journal. This journal will be used as a guide to help you stay on track of your progress and areas of growth. This 3-month journal was created based on principles of neuroscience, positive psychology and cognitive psychology to help you overcome barriers of success to make it simple to achieve your goals. In the Best Self Journal, you will record your journey on the road to success each day by keeping track of your successes, opportunities and areas of development for 90 days. As a result, you will form habits that will help you become more productive, effective and focused.
| | |
| --- | --- |
| 4 Hours of developmental coaching | 13-week productivity journal to help you plan for the next 3 months |
| Assessments: Gallop strengths, Emotional Intelligence Assessment, 360 assessment (to give to at least 5 people you trust), Personal profile survey | Dashboard that includes a summary personal profile |
Who qualifies
You qualify if you…
want to create a purpose statement
need help with creating attainable goals
need help with getting focused
are fearful about what to do next in your career and are desiring a change but not taking specific action
lack vision about what to do next with your career
have a lot of negative mind chatter and you want to change

need to increase confidence

need help balancing daily tasks, need to increase self-care, managing stress, and improving relationships
---
Outcomes
As a result of attending this planning session, you will…
have a clearly defined plan of action and steps to take to achieve your goals
increase confidence and inner peace
leave feeling focused, motivated and ready to take ACTION!
Specific changes that may occur after the 90 day journaling…
increased focused
more positive and more feelings of gratitude
job promotion/change or increased sales in business
career change
improved relationships with co-workers/family
---
Moreover, out action planning session provide leaders the tools to help them activate their true leadership purpose and enable them to lead from there authentic self. After the planning sessions, leaders are given a productivity journal, to help them quickly reach success!
---
Schedule your appointment today!
Click here to book a free 30 minute session
---
Learn about our other coaching classes
---
What are people saying!
I'm grateful that Dr. Jessica Blalock is my coach. She has been there through my career and personal milestones. I rely on her insight and approach to tackle challenges that I thought stood in my way. Her coaching has helped me do more and waste time less. She has held me accountable to my goals and made them time bound, which I have found has actually lightened my load and made me more effective and productive in my day to day. I feel more confident as a result and able to achieve more. I've also received positive acknowledgement from work with my increased productivity and outputs. Laura
---

I just love your Best Self Journal! 4 years ago I was diagnosed with breast cancer at the age of 36 and while I am now cancer-free, I have struggled with negativity and self-doubt throughout my life. It's been a daily battle but with the help of your planner, I am now looking for the positive and planning the future that I want for my life! I want to thank you for sharing this guide with me and the rest of the world! Silvana
---

Dr. Blalock provided an elevation to my personal journey of Self Discovery that is unparalleled. During our sessions both together and in conjunction with the great online tools, I found myself further motivated to become more conscious of Self. I further enjoyed the dynamic experience of the assessments she provided to allow quantified analysis of the subject matter we focused on. I especially liked the tailored approach Dr. Jessica employed to allow us to focus on the areas of "Discovery" that were most important to my current and future life plan endeavors. I would highly recommend Dr. Jessica and the Center for Discovery program to individuals and corporations alike. Thank you so much for this priceless experience. Ed

---

Thank you so much Dr. Jessica for an amazing experience. By the end of our session, I not only was able to "name" one of my ill-desired behaviors, but I moved through it, accomplishing an amazing fate of moving into my new, vibrant home–a vision I've held for over 5 years! I'm sure, this would not have happened as quickly as it did had not I received support, encouragement and guidance from you and the group. And for that, I AM most grateful. Best wishes and I look forward to attending your facilitator's training soon! Olivia
---

My coaching experience was very beneficial, it gave me an opportunity for self discovery; to examine myself closer, and set realistic goals for myself. Also, I realize just how important my attitude and body language is (the two should coincide). Thank you, and much success!!! Treavius

---

Dr. Jessica has helped me with managing my stress and unblocking some areas that were inhibiting me from being my best self. As a result, I received two job offers and I am still getting more job offers. Thank you so much Dr. Jessica. Raychelle

---

At first I was a little resistant. I'm a private person and don't do well with someone prying into the who, what, when and why. But……I came to look forward to the sessions. I found them to be informative, and relaxing. (You did offer so well founded suggestions). You also brought out some things in me that I had long forgotten. I'm using them now and its working for my betterment. Diana

---

I believe that my coaching session was a tremendous help to me with learning how to relax which allowed me to be more productive and the work flow was smoother. I also learned that in my own way I am a leader and that by being a leader doesn't mean that you always have to be seen but by delegating to others is leading them as well, so basically in being a leader you can be behind the scene and not out front. Also, I was given tips on how to deal with situations when they arise so as not to panic and get frustrated which would cause my pressure to elevate. Thank you for your help and if I need your assistance in the future, I will call you. Valerie