9 Week Group Coaching Series: Women Power Up!
Step into your power as confident and influential leaders
Are you where you want to be in your career? Are you ready to eliminate personal or professional blocks? Are you ready to activate your strengths and passions daily?
Women Power Up! Is a 9-week group coaching/mentoring series for professional women who are ready to activate their true purpose and step into their power.
This 9-week coaching series helps women increase leadership skills from the inside out! It empowers women who are ready move into their power as confident,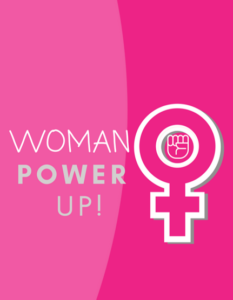 leader's others will listen to and buy from.
What's Included
The group sessions help women in their careers, business, health, and relationships. Women Power Up includes coaching calls every week to discuss progress/lapses on goals and weekly modules with videos and downloadable tools and resources.
The sessions will help women create an idea vision and practice honoring SELF. As a result of attending the session, participants remove barriers that keep them from functioning at their highest level. Here is a summary of what is included in the 9 week coaching series,
| | | |
| --- | --- | --- |
| 8 group sessions for 1.5 hours |  Strength Finder Assessment | 13-week productivity journal |
| Videos (communication skills, mindfulness, emotional intelligence) | Articles, resources and tools | Access to private FB forum |
How long are the sessions?
We meet online for 8 weeks, 1.5 hours
Who qualifies?
Corporate Professional in Transition

You want to be promoted but are lacking certain skills
You need to improve your communication skills, leadership and influencing skills to advance your career.
You are an emerging leader within an organization (corporate or non-profit) and you want to position yourself as a top talent within your company
You want to make a career change

Small Business Owner

You need help effectively managing your employees
You need help with increasing business sales and productivity

Coach/Consultant

You need help with increasing business sales and productivity
You need help with generating additional revenue

Speaker/Author

You need help with successfully writing/publishing a book
You need help with getting new speaking gigs

You are fearful about what to do next in your career and are desiring a change but not taking specific action
You lack vision about what to do next with your career
What are the outcomes?
As a result of taking this 8-week coaching series, you will be able to…
Discover what you naturally do best and learn how to use these talents to perform to your natural potential
Determine your strengths, areas of growth and barriers that may inhibit you from being your best
Become more confident and influential in your abilities to be successful (at work or in your personal life)
Learn how to connect better with people who are different from you
Increase confidence and inner peace
Specific changes that may occur
Job Promotion/change or increased sales in business
Career Change
Improved relationships with co-workers/family
8 session overview
Session 1 –  Introduction and Goal Setting
Get clear about the goals that will change your life
Learn goal setting techniques to help you achieve 1-3 short term goals
Session 2 – Tune in and Turn on
Learn 3 keys to implementing mindfulness strategies throughout the day
Implement mindfulness principles to help you live with more peace and ease and deal with unexpected changes or obstacles
Learn strategies to increase self-confidence by acting out our authentic best
Session 3 – Use Emotional Intelligence as a Secret Weapon
Review 3 techniques to help you identify and accept yourself as you are now and release limiting thoughts
Understand express one's emotions, and to handle interpersonal relationships wisely and empathetically
Use emotional intelligence to build trust and grow influence
Session 4 – Take Control of What You Say – Active Listening
Understand keys to listening
Discover active listening techniques that will help you become a more impactful leader
Session 5 – Take Control of What You Say – Assertive Communication
Uncover strategies to help you communicate your message assertively
Discover how to create an online and face-to-face presence that sends the right message when communicating with others
Increase your visibility through online social media platforms and let people find you (LinkedIn, Instagram, Facebook)
Session 6 – Take Control of What You Say – Managing Conflict 
Understand how to manage conflict
Handling put downs and managing difficult conversations
Session 7 – Learn 3 keys to executive presence
Build, maintain and leverage relationships
Session 8 – Review all goals and create strategy for the next 90 days
Additional information
A productivity journal will be given to each participant after payment has been received. It will take 7 to 10 business days for you to receive your journal.
How much does this cost?
The cost of the Women Power Up! Group coaching is $900.00 $400.00 for the 8 week course (pay all at once or in 3 easy payments of 134.00. This will be a closed group; if for any reason you have to leave the program, there will be a $250.00 non-refundable fee.
Learn about our other coaching sessions
Becoming Your Best Self
For more information, complete the form below.